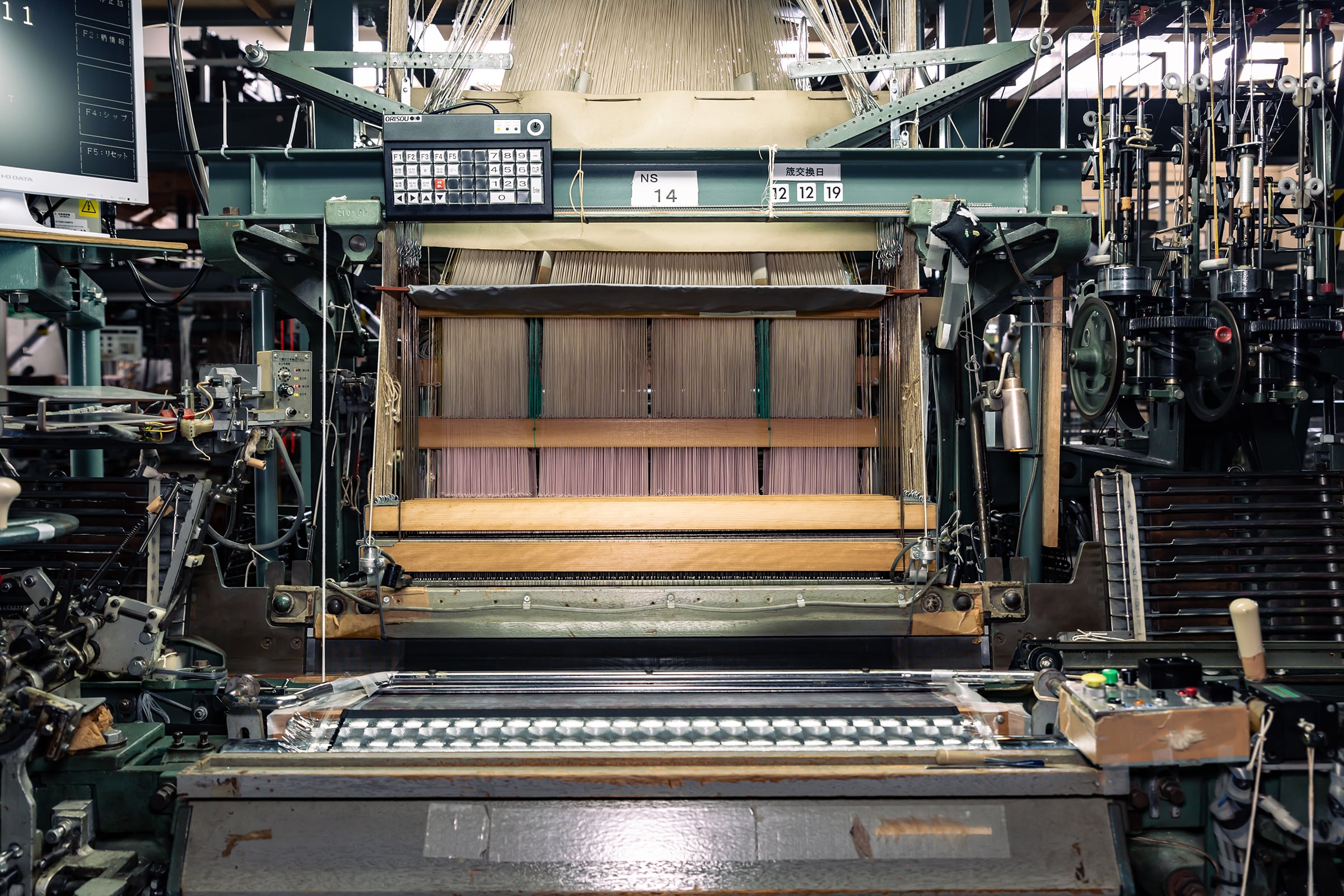 WOVEN
Kawashima Selkon's textiles, with a history of more than 170 years, are characterized by the combination of traditional Japanese hand weaving techniques and modern machine weaving techniques. Taking advantage of the techniques that have been passed down for more than 170 years by Kawashima Selkon Co., Ltd., this project has produced textiles using a total of five different techniques, including four types of traditional Japanese Nishijin weaving techniques and one type of Jacquard weaving technique.
- Traditional Nishijin brocade technique (4 types) = "Four Gods" motif.
The four types of textiles were created using traditional Nishijin-ori techniques while incorporating modern materials to bring out the characteristics of each of the "Four Deities".
- Jacquard weave (1 type, 4 patterns) = 8 objects evoking Kyoto scenery.
The fabric is made of a special material (multilayered light-colored film) that changes its appearance depending on the angle from which it is viewed and the way the light hits it. All four objects are woven on a Jacquard loom.
Immerse yourself in a space with textiles and feel the diverse and rich expression of textiles.
Traditional Nishijin weaving techniques (4 types)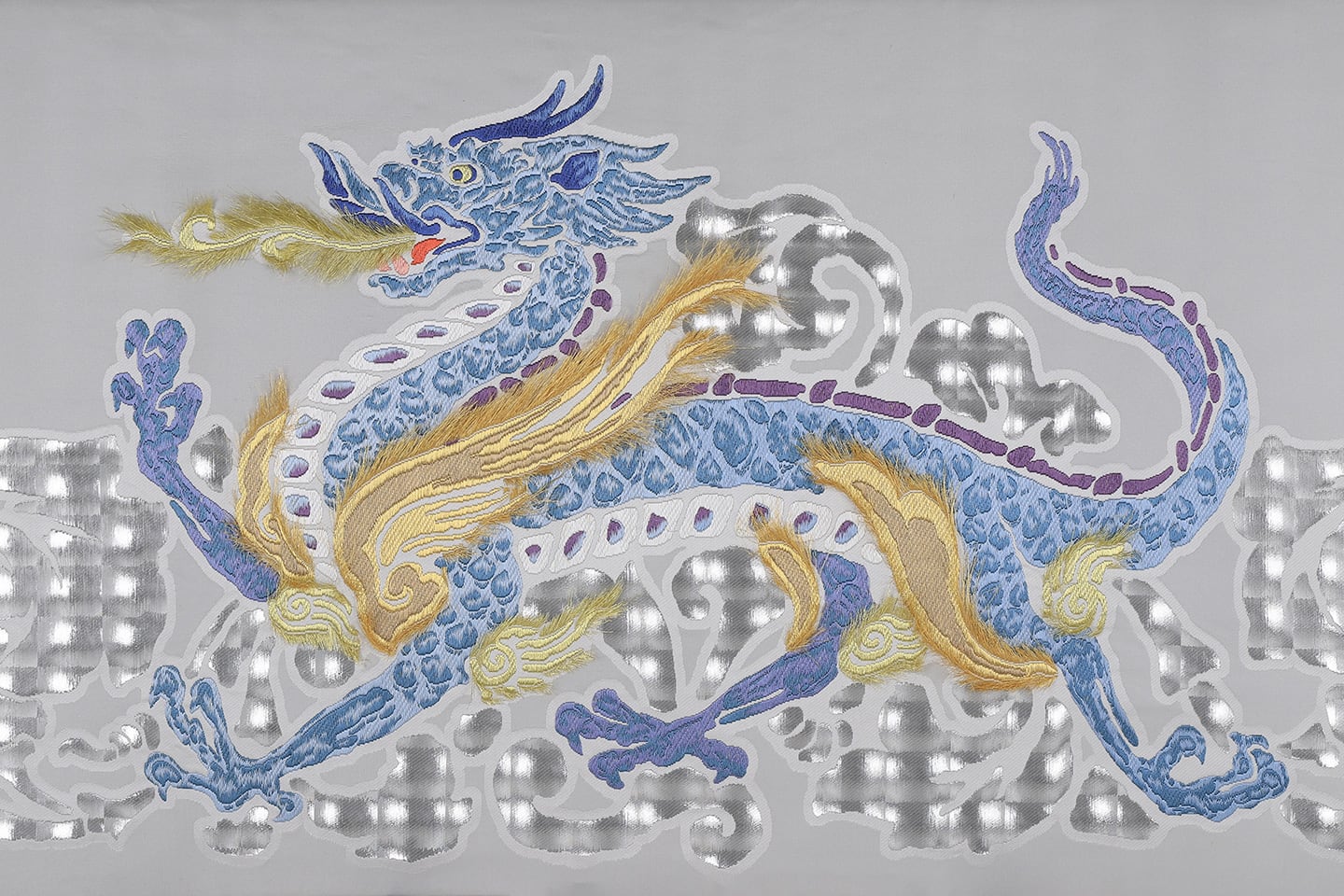 Seiryu: Karaori
Karaori - Seiryu / East
This is a jacquard fabric that applies the "karaori" technique, which is commonly used to create costumes for the traditional Japanese performing art "Noh".
The Seiryu's (Blue Dragon) valor is depicted in a rich and dignified manner, and is given a three-dimensional experience due to the many colors used, the weaving structure, and the thickness of the threads.
In addition to the traditional textile materials, the arabesque design in the backdrop is made with a shimmering material called a lens sheet. Using the traditional "Hikihaku" technique, the "lens sheet" is cut into threads and weaved.
*Motif: Seiryu (Blue Dragon)
*Technique: Karaori
*Composition: Silk: 74%, Non-classified fiber (paper): 20%,
Rayon: 3%
,
Polyester: 3%
,
Cupra: 1%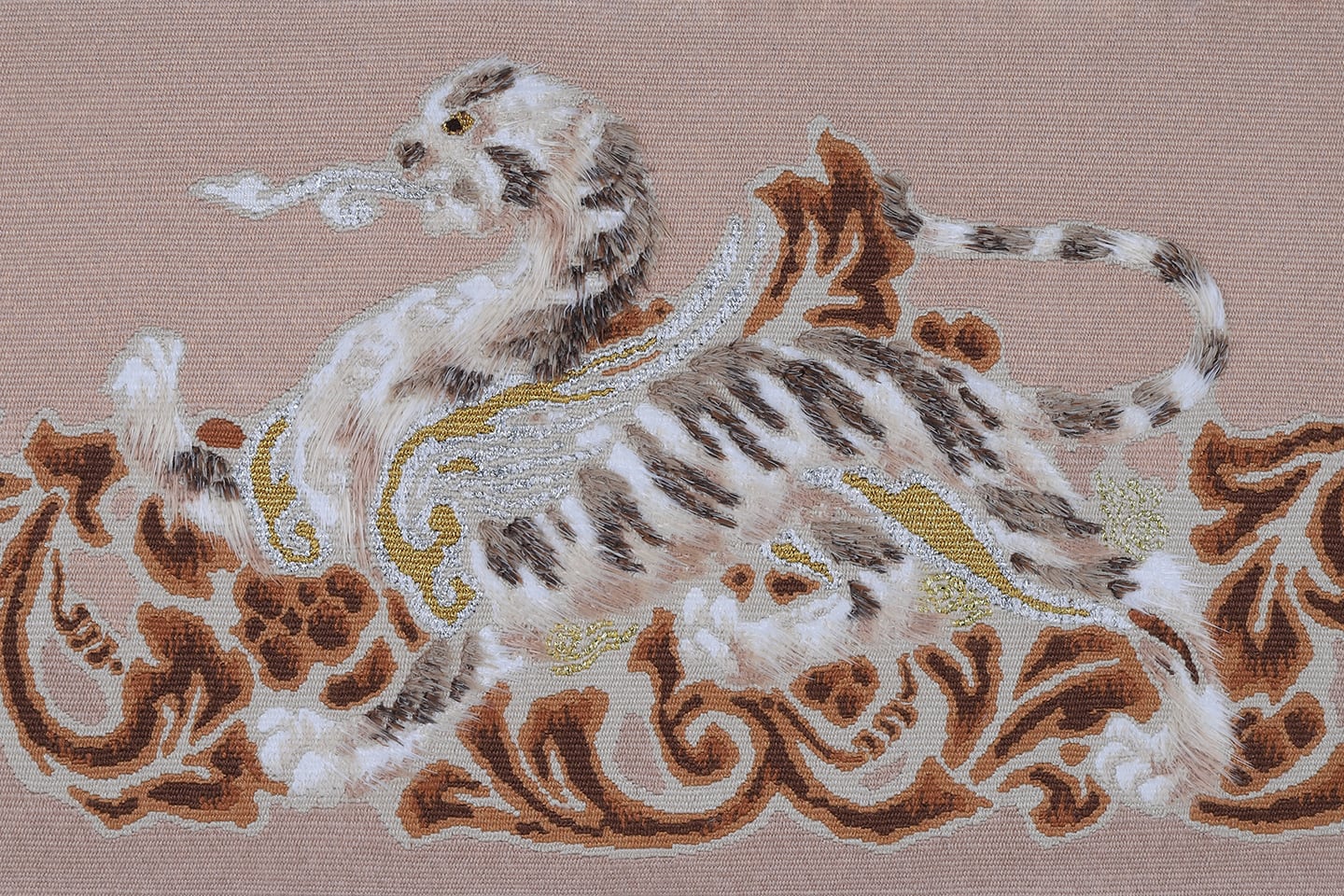 Byakko: Tsuzure-ori (Western Style)
Tsuzure-ori: Western Style - Byakko / West
To give it a textile-like quality, this fabric was woven with a Western-style "tsuzure-ori" technique.
Tsuzure-ori and Gobelins tapestry are related weaving techniques that have been used to express pictures and motifs for centuries. A sketched design is placed under the warps, and the wefts are woven in accordance, as if sketching a picture. Because the fabric is woven by hand, there is no limit to the number of colors that can be used, and it is best suited for painting-like expressions. Tsuzure-ori tapestries are normally woven from the bottom, whereas Gobelins tapestries are woven from the side of the pattern.
The Byakko (White tiger), which has a Western image, is woven from the side of the pattern in the same Western style as Gobelins tapestry.
*Motif: Byakko (White Tiger)
*Technique: Tsuzure-ori (Western style)
*Composition: Rayon: 72%, Cotton: 25%,
Others: 3% (nylon, polyester, paper)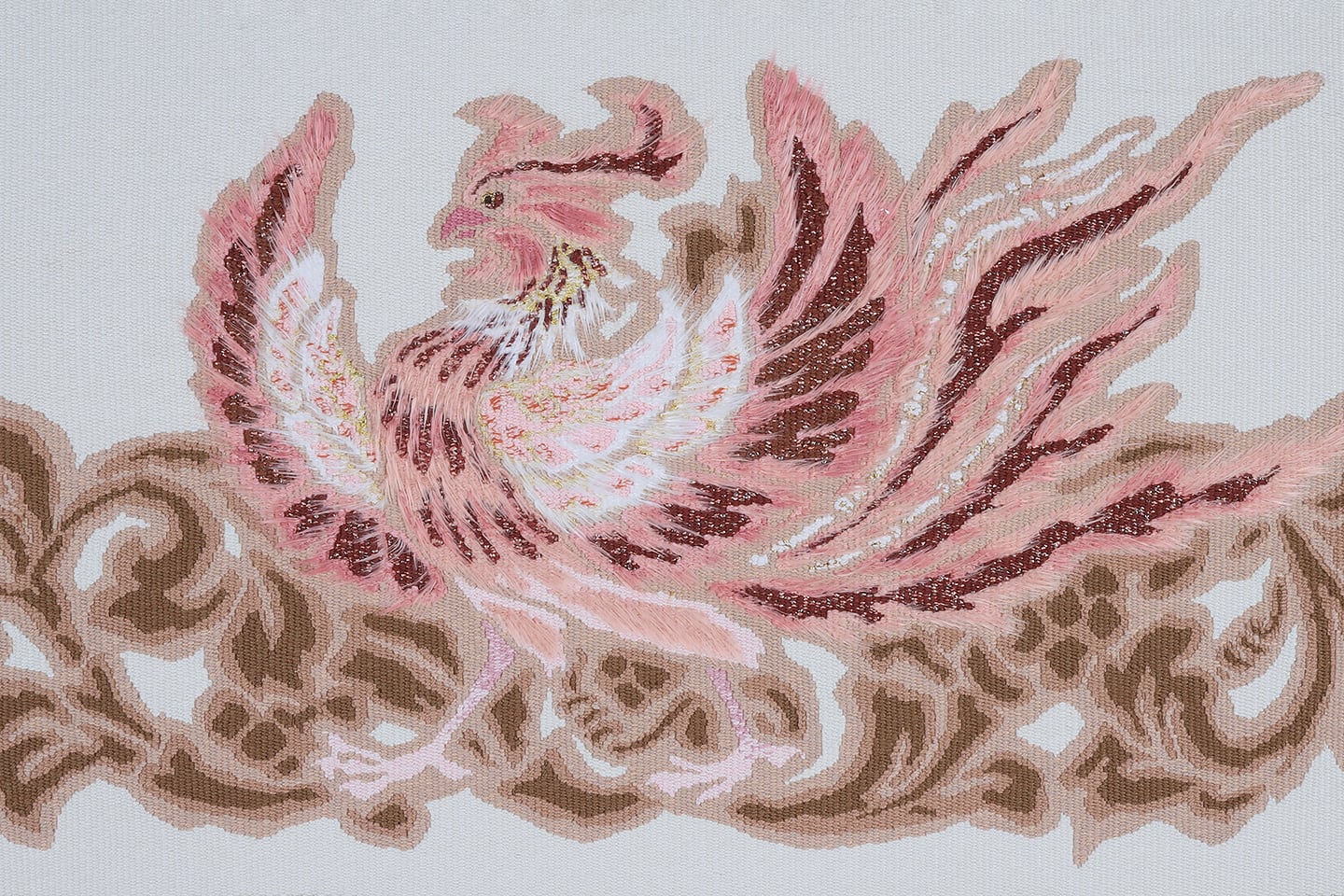 Suzaku: Tsuzure-ori (Oriental Style)
Tsuzure-ori: Oriental Style - Suzaku / South
The oriental style of "Tsuzure-ori" was applied, which is most suited for delicate picturesque expressions. It is similar to the "Tsuzure-ori" technique used for Byakko, but the Tsuzure-ori established in Japan is distinguished by its finer gradation and its beautiful and delicate color distinctions.
Because the bird has an oriental image, and because weaving from the bottom, as if weaving a rug or an obi, is more technically suitable for a design where the wings extend horizontally, the Tsuzure-ori technique was used in its oriental form.
*Motif: Suzaku (Vermilion Bird)
*Technique: Tsuzure-ori (Oriental style)
*Composition: Rayon: 75%, Cotton: 22%,
Others: 3% (nylon, polyester, paper)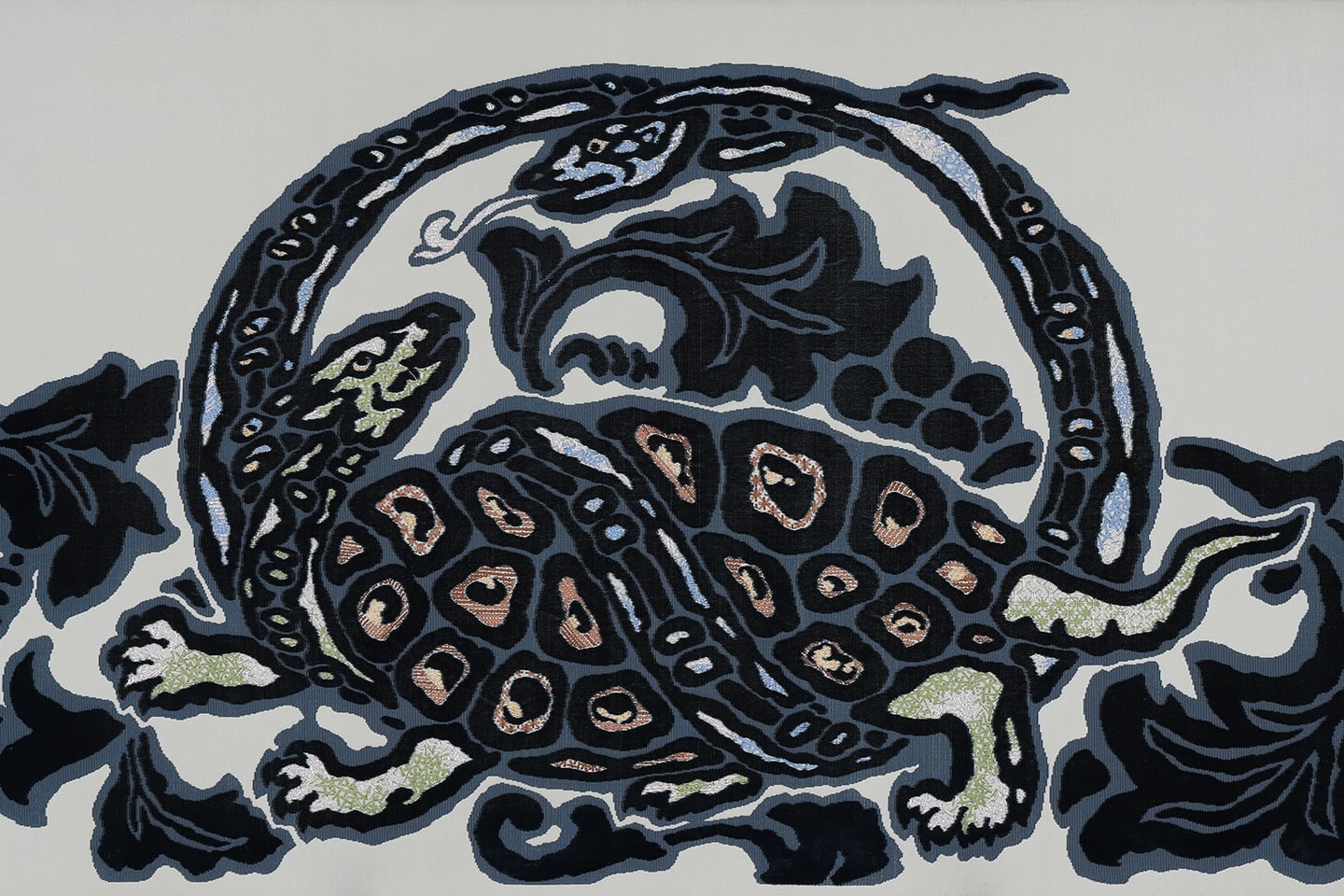 Genbu: crest velvet and embroidery
Mon-birodo × Embroidery - Genbu / North
"Mon-birodo (patterned velvet)" is a woven fabric that combines the properties of pile (looped yarn) and cut pile (cut from looped yarn). The pile is created by weaving a wire together with the weft threads and then removing the wire once the weaving is finished. The cut pile is created by cutting the wire strands, giving it a velvety texture. The sliced yarn displays the cross section of the thread, making it deeper in color.
The sacredness of the Genbu was expressed with Mon-birodo, which signifies both dignity and glamor, and embroidery was used to give it a more decorative expression.
Motif: Genbu (Black Tortoise)
Technique: Mon-birodo, Embroidery
Composition: Silk: 91%, Rayon: 3%, Polyester: 3%,
Non-classified fiber (paper): 3%
Jacquard weave (1 type, 4 patterns)
This textile expresses how the landscape changes with the seasons and time. In addition, a special material (multilayered light-colored film) is used to change the expression (appearance) depending on the angle of view and the way the light hits the fabric, in pursuit of a gradation The result is a gradation of expression that shows a wide variety of expressions.

*Looms used: Jacquard loom
*Shengdi width: 145cm
*Composition: 100% Polyester